AI-Driven Warranty Management
Utilizing advanced algorithms and contextual Q&A, our HomeKeep Platform offers automated, real-time warranty triage, 24/7. Analyze, prioritize, deescalate, and route homeowner warranty request to the appropriate destination automatically, in real-time.
49% of new homeowners submit 8 or more warranty-related issues during the first 30 days in their home.
Improving the Warranty Management Process
Our warranty management tools ease the burden on homebuilders by efficiently triaging and managing warranty requests, while simultaneously empowering homeowners to take control of issue resolution from day one and throughout the lifetime of their homeownership.
More than 60% of homeowner warranty related issues happen outside of typical business hours.
Reduce Interactions and Exceed Expectations
Our warranty module reduces unnecessary interactions between homeowners and builders. 24/7 triage of warranty-related issues and year-round homeowner availability for both warranty and non-warranty related topics ensures that homeowners have the support they need whenever it's required.  This not only enhances homeowner satisfaction but can also reduce homebuilder personnel costs.
Only 14% of the Top 200 builders currently leverage AI and other advanced solutions to assist with home warranty claims management.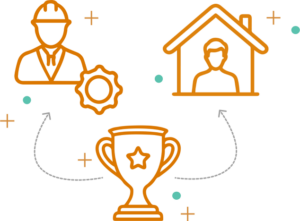 A Win for Builders and Homeowners
The HomeKeep Platform is the only solution on the market that provides homebuilders with comprehensive warranty management functionality while also equipping new homebuyers with the tools needed to become educated and informed homeowners long after the warranty period.
The total home building industry warranty reserve is over $1.94 billion.
FAQs
What is the typical implementation time to deploy the HomeKeep triage tool?
kyle.faino
2023-11-28T02:56:24+00:00
The typical implementation time for the HomeKeep warranty tool varies. It can be as quick as embedding a few lines of code onto a website, or take a bit longer for more complex back-end systems.